COAST is committed to utilizing the most advanced physical therapy treatment techniques available delivering cost effective, personalized care, with an exceptional level of customer service resulting in superior outcomes.
Our philosophy is to integrate education and exercise in the treatment of the "whole" person. We expect patients to actively participate in their physical therapy and rehabilitation. Our goal is for patients to understand the mechanism of injury, how to facilitate an optimal and speedy recovery, and how to prevent the recurrence of injury.
COAST provides physical therapy, sports medicine, personal fitness training, massage therapy, and orthopedic rehabilitation services for greater Santa Cruz County including Aptos, Ben Lomond, Boulder Creek, Capitola, Castroville, Felton, Santa Cruz, Scotts Valley, Soquel, and Watsonville.
Mission Statement
---
provide ethical and compassionate evidence based care.
educate patients and peers about the attributes, benefits and value of physical therapy.
serve as a role model regarding wellness and living well.
have fun, be accessible, make enough money to stay in business.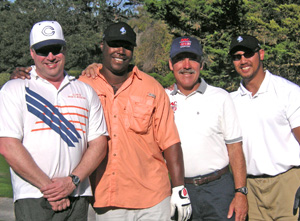 Cabrillo College Fundraiser Golf Outing
(left to right) Gerry Van Dyke, Glenallen Hill, Charlie Parker, and Ismansjah Soekardi